COGNITIVE & DECENTRALIZED HEALTHCARE TECHNOLOGIES
Vytalyx is a health technology company that plans to use AI to provide health professionals with access to intelligence and insights in context across multiple big data sources – all through decentralization, cryptography and utilization of blockchain.
WHAT WE DO
Vytalyx is developing an end-to-end AI for healthcare, open-source and enterprise, that aims to combine the best qualities of humans and machines. Our goal is to provide innovative and intuitive AI solutions that understand clinical and wellness datasets, allowing health professionals to view and personalize relevant diagnoses, treatments, formulations and other results in context across multiple big data sources. We aim to provide health professionals with unfettered access to intelligence and data, which may help discover the most relevant relations between vast amounts of clinical and wellness entities. Our focus, making clinical and wellness decisions more informative and data-backed.
AI MODULES
Our goal is to develop various clinical and wellness AI modules in the following deployment areas.
** WDS modules are not intended to diagnose, treat, cure or prevent any disease.
ADVANCING THE STANDARD OF CARE
Our planned AI aims to accelerate the development of a decentralized super-mind, helping the global healthcare community transcend into a more connected and intelligent modus operandi. Our AI is being designed as a peer-to-peer benefit-maximizing architecture where machine learning is federated.  This architecture may serve as a powerful collective human decision-making tool that has the potential to drive better decisions and improve health outcomes. Decentralization of our AI may be fully embraced by applying differentially private federated learning, a decentralized peer-to-peer machine learning model. Our planned AI is about helping health professionals maximize big data insights in order to discover the best clinical and wellness diagnoses and treatment options.
PRACTICE AREAS
Our goal is to develop various clinical and wellness AI modules in the following clinical and wellness practice areas.
Hormone Replacement Therapy
Thyroid Replacement Therapy

Cardiology | CHF

Kidney Disease Management
Diabetes Management

Neurology

Sepsis

Pneumonia
DIFFERENTIALLY PRIVATE FEDERATED LEARNING
Our planned AI intends to utilize differentially private federated learning. Federated learning is a form of decentralized peer-to-peer machine learning. Applying differential privacy to federated learning allows our blockchain, Fractalblock, to train machine learning models using another party's data without the other party explicitly sharing data or knowing the other party's data or intellectual property.

Rather than using a centralized machine learning architecture, federated learning brings an AI algorithm to the individual data source and uses the data to update the AI algorithm. By using federated learning models, numerous doctors and patients within our ecosystem may collaborate and learn more efficiently.
OUR AI
Unlike artificial intelligence, which may involve little to no human-machine intercommunication, augmented intelligence is information technology that may be codified to mimic human cognitive functions and may supplement and support human cognition, thinking and analysis, but leaves the human at the center of human-machine interaction.  Augmented intelligence is fundamentally about making smarter and more informed decisions that better simulate, understand and model human decision making, thought, processes and views.
Augmented Intelligence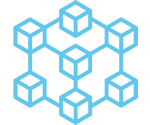 Federated Learning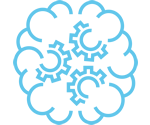 Big Data Analytics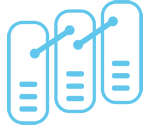 Blockchain
PERSONALIZED HEALTH
AI INPUTS
0
Target No. of Data Inputs
0
Target No. of Anonymized Medical Records
0
Target No. of Data Sources
0
Target No. of Biomarkers Analyzed
WHO ARE WE?
We are a group of entrepreneurs and executives who have started and developed numerous companies. From management to advisors, we have assembled a team of seasoned professionals with a ballistic focus on creating innovation for the world.
MANAGEMENT TEAM
David A. Granzotti
Co-Founder & Chief Executive Officer
David P. Valenti
Chief Legal Officer
Jeffrey P. Heller
Chief Financial Officer
Jennifer Tanguy
Chief Marketing Officer
Adrian Saker
Director of Business Development
BOARD OF DIRECTORS
David A. Granzotti
Chairman
TECHNOLOGY DEVELOPERS
Ben Lamm
Artificial Intelligence
John Fremont
AI & Blockchain
Will Womble
Artificial Intelligence & Technology
Marc Boudria
Artificial Intelligence Engineer
Drew Lipman
AI, Blockchain & Data Science
Travis Turner
Technology & Software Engineering
Matt Jafee
Technology & Software Engineering
Alain Bernstein
Technology & Software Engineering
Todd Gruben
Technology & Software Engineering
Cody Soyland
Technology & Software Engineering
Jonathan Spillman
Technology & Operations
H.O. MayCotte
Database Technology
TECHNOLOGY ADVISORS
Dale Sanders
EHR Data Warehousing
Dr. Asad Mahmood
AI & Blockchain
Josef Schaible
Blockchain
MEDICAL & SCIENCE ADVISORS
Dr. Rand McClain DO
Sports & Regenerative Medicine
Dr. Steve Sobol MD
Thyroid & ENT Medicine
Dr. Jordan Youngerman MD
Medicine
Heidi Sexton APN, ACNP
Medicine
Dr. Mihnea Dumitrescu MD
Pain Management
Magda Orzechowska
Genetics & Medical Biotechnology
Dinesh Madhyastha
Genetics & Bioinformatics
Ryon Talbot
Fitness & Exercise Science
PHARMACEUTICAL ADVISORS
Robert Matje
Pharmaceutical Operations
Russell Teague
Pharmaceutical Operations
David Burgoss
Design, Validation & Qualification
Ray Wheeler
Pharmaceutical Project Engineering
Lois Horne
Quality Assurance & Regulatory Affairs
George Harmon
Pharmaceutical Operations
Lance Lercher RPh
Pharmacy Management
Hayden Gharibyar
Compounding Pharmacy Operations
LEGAL ADVISORS
Edward Allera, Esq
Legal (FDA, DEA, Pharmaceuticals)
Rick Collins, Esq
Legal (FDA, DEA, Dietary Supplements)
Lee Rosebush, Esq
Legal (FDA, DEA, 503B Compounding)
Eric Madigan, Esq
Legal (Patents & Trademarks)
John Rivas, Esq
Legal (Stark, CPM, Anti-Kickback)
CONTACT US
For inquiries, please enter your email below.